Air Duct Cleaning Services in Northwest Michigan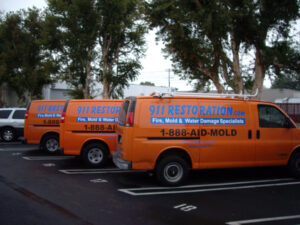 Winters in Northwest Michigan can get downright frigid. As the temperatures plummet, it's critical that your heating system is optimally working to keep your home warm and cozy. An important component of your heating and cooling system that can easily get overlooked is the air ducts. These ducts help to circulate the air from your heater into and out of each room in your house, keeping your interior comfortable regardless of the weather outside.
Did you know that all of the air inside your house actually circulates through these ducts multiple times per day? This is the same air that you and your family are breathing. As such, it's important that this air is as clean as possible.
911 Restoration Bakersfield understands know essential indoor air quality is to your health and wellness. Our team of IICRC certified technicians is committed to helping you keep your property safe, clean, and comfortable. That's why we want to spread the word about the importance of professional air duct cleaning services.
Our air duct cleaning specialists will always give the property owner a free inspection before we get to work. We'll also provide you with an estimate to be as transparent and as honest as possible. At 911 Restoration, our services go far beyond sanitization and restoration. We are passionate about providing our customers with top-notch services they can trust.
Not only will we thoroughly inspect and clean your home's air ducts to ensure they're free of dirt, dust, and pollen, but we'll also tackle any potential mold problems. Mold loves to take up residency in air ducts because it's a cool, dark environment. Once there, the mold can spread like wildfire and negatively impact your home and your health.
If you need expert air duct cleaning or mold remediation in Michigan, call 911 Restoration of Northwest Michigan today at 231-220-9892! We'll be at your door within 45 minutes.
4 Benefits of Air Duct Cleaning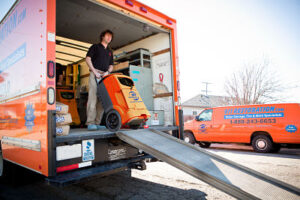 Having the experienced technicians at 911 Restoration of Northwest Michigan clean your building's air ducts come with numerous benefits. Four perks of getting your air ducts professionally cleaned include:
Creates a Clean Living Environment
Having your air ducts cleaned removes airborne pollutants that you'd otherwise be breathing in. Dust, dirt, pet hair, and pollen can all cause allergic reactions and other health issues.
Alleviates Allergies
Do you or a loved one suffer from allergies? Keeping your air ducts clean prevents harmful contaminants from circulating throughout your home, including pet dander, mildew, pollen, and mold spores. This will drastically alleviate your allergy symptoms.
Removes Bad Odors
Do you love a fresh-smelling home? Cleaning out your air ducts will make your home smell better by removing bad odors caused by mold, pets, tobacco use, paint fumes, and more.
Boosts Air Flow Efficiency
If you want to enjoy supreme indoor comfort all year long, consider having your air ducts cleaned. Built-up grime and dust can restrict airflow, making your heater or air conditioning work harder and become less efficient.
If you want to enjoy these four benefits of air duct cleaning, call 911 Restoration of Northwest Michigan now at 231-220-9892!
Clean Air Ducts and Your Fresh Start Await
Whether you're suffering from allergies, have a struggling heating system, or think you have a mold infestation, you should call the team at 911 Restoration of Northwest Michigan today. With 24/7/365 availability, we'll be at your building in no time to start the clean-up or mold removal process. With kind and compassionate services, we'll put you at the center of our attention to ensure your experience with us is wonderful.
To schedule your air duct cleaning appointment and enjoy the Fresh Start you deserve, contact 911 Restoration now by calling 231-220-9892!
911 Restoration of Northwest Michigan proudly serves the communities of Traverse City, Cadillac, Manistee, Petoskey, and the surrounding areas.