Water Damage Restoration in Alanson, Michigan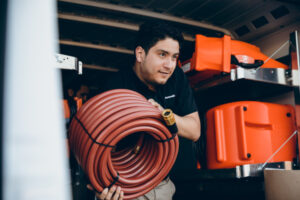 Water damage is a serious issue in the Alanson area that can have a devastating effect on your home or business. At 911 Restoration, we understand the importance of addressing water damage quickly and properly. Doing so minimizes the damage and gets your property back to normal as soon as possible. As a professional water damage restoration company, we have the knowledge and equipment necessary to handle any water damage emergency. 
Causes of Water Damage in Alanson, MI
A variety of issues can cause water damage. Common causes include heavy rainfall, flooding, and broken pipes. Heavy rainfall can cause water to seep into your home through leaky roofs or windows. Flooding can cause water to rise and enter your property through the foundation. Broken pipes can also be a major source of water damage, as they can cause water to leak into your home or business. Water from broken pipes can cause damage to walls, floors, and ceilings. 
Signs of Water Damage
It is important to be aware of the signs of water damage so you can take immediate action to lessen the damage. Common signs of water damage include water stains on walls and ceilings, water-damaged floors, and a musty smell in the air. If you notice any of these signs, it is important to call a professional water damage restoration company like 911 Restoration right away. Once we arrive, we can assess the damage and begin the restoration process.
Water Damage Restoration Services
At 911 Restoration, we understand that dealing with water damage is stressful. That's why we strive to make the restoration process as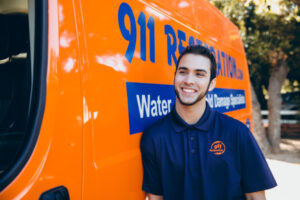 smooth and stress-free as possible for you. Our IICRC-certified technicians will assess the damage and develop a plan of action to restore your property to its pre-loss condition and will give you an estimate of the cost. 
We use specialized equipment and techniques to remove water, dry out the affected areas, and repair any damage. We also use advanced techniques to prevent mold growth, which can cause added health hazards. 
Part of providing our customers peace of mind is making sure we take care of all the challenging work. This includes working with your insurance company on your behalf. We are well-versed in the nuances of insurance policies. We know how to assess the true extent of damage and its causes, and we back it up with photos and videos. We know exactly how to talk to insurance companies to maximize your insurance claim and get you exactly what you're entitled to. 
Prevention Tips
It is difficult to completely prevent water damage, but there are steps you can take to reduce the risk. Regularly check your home or business for leaks. Make sure that gutters and downspouts are clear of debris. It's also a good idea to have a plan in place for dealing with water damage in case of an emergency, such as heavy rainfall or flooding. 
At 911 Restoration, we also understand the importance of great communication during a stressful emergency. That's why we work closely with our customers to keep them informed every step of the way. 
If you're dealing with water damage in the Alanson area, don't go it alone. We're here to help you get your property back to normal as quickly and efficiently as possible.
911 Restoration is located at 967 E Commerce Drive, Traverse City, MI 49685.  Give us a call 24 hours a day at (231) 220-9892.
Serving the communities of Cadillac, Charlevoix, Gaylord, Grayling, Harbor Springs, Houghton Lake, Manistee, Petoskey, Roscommon, Traverse City and surrounding areas.