Which Appliances to Cover During Wildfires?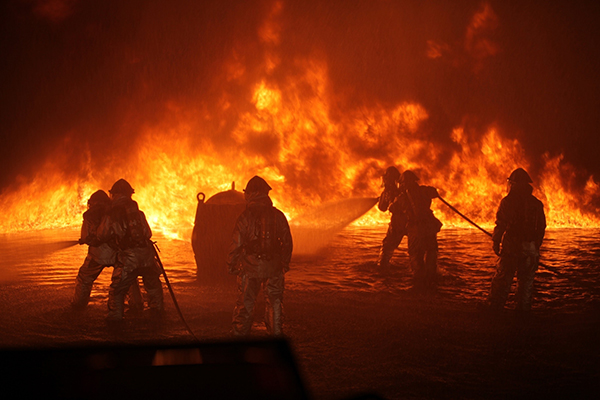 Wildfires are one of the few natural disasters caused by human action. They can be difficult to predict, and it is hard for meteorologists to forecast outbreaks of wildfires.
If you live in an area prone to wildfires or have had outbreaks before, it is important to be prepared. Not only should your home be as well protected as possible, but you should also have evacuation plans set in place and basic fire safety training in case you are caught in a wildfire.
When it comes to your home and keeping it safe during a wildfire, there are certain appliances that you should keep disconnected and covered up. It would be good to disconnect appliances that use fuel like natural gas and electricity to run. Let's take a closer look at some of the appliances you should keep covered.
Stoves and Ovens 
One of the most common household appliances that use gas as fuel is the stove. Stoves, cooktops, and ovens connected to a gas line should be disconnected and covered up during a wildfire. This is because gas is highly flammable, and in case the wildfire spreads to your house, the gas lines can cause an explosion. According to a National Fire Protection Association (NFPA) report, an average of 4,200 house fires every year start with natural gas ignition.  
Fireplaces
In the same way that you would board up windows and doors to keep out smoke from wildfires, you should also board up the fireplaces in your home. Fireplace chimneys are a significant source of air leaks. When there is a wildfire warning in place, you should ensure that your chimney damper is completely shut. Additionally, you can temporarily seal the fireplace by putting in a foam insulation plug and caulking it in place. 
Barbeque Grills and Other Outdoor Cooking Equipment
If you have any outdoor cooking equipment, such as a barbeque grill or any other kind of grills, you should make sure that the equipment is completely clean and free of any grease or fat buildup during wildfire season. Leftover grease, fat, and fuel on the grill can easily ignite and cause fire to spread to your home. If there is any coal or other ignition material in the grill, you can cover it up with a few inches of sand and then shut the grill cover. 
Tumble Dryers 
Many households use laundry dryers that either use gas or electricity. Like other appliances around the house, it would be in your best interest to disconnect the tumble dryer during a wildfire. Unplug the dryer from the main gas or electric line and ensure that there is no gas leak. If the wildfire does spread into your home, you want to minimize any risk of a gas explosion. 
Water Heaters 
Water heaters that use gas as a fuel source can sometimes explode and cause severe damage. If you think there might be a chance of a gas leak or if your water heater is old and worn, it would be a good idea to shut off the main gas supply to reduce the chances of a gas explosion. The main gas shut-off valve is usually a single handle valve towards the bottom of the water heater. You should take a look at the water heater manual to know exactly how to shut off the gas in case of an emergency, as every model is different and might have different shutoff methods.  
Lanterns and Gas Lights 
Any lanterns and gas lights outside the house should be shut off if there are wildfire alerts in your area. The gas fuel source on these lights is highly flammable, and wildfire smoke can cause ignition and the spread of fire to your home. 
Cars and Other Vehicles 
In the case of a fast-moving wildfire, it might be impossible to save your cars and other vehicles. Every year, tens of thousands of cars burn down in wildfires. If you do not need your car as part of your evacuation plan, you should keep it covered in a garage or any other covered-off space. If you do not have a garage available, you can cover it with a fitted cover to keep the paint job and tires safe. Additionally, you should check if your car insurance covers wildfire damage.
911 Restoration of Northwest Michigan
Whether you are looking for water damage restoration, sanitization services, disinfection solutions, mold removal, sewage backup cleaning, fire and smoke damage restoration, or restoration after wildfires, 911 Restoration of Northwest Michigan is always in your corner. Whatever your restoration and clean-up needs are, we're here to help. We also believe in turning every disaster into a Fresh Start.
We provide our services in Northwest Michigan, Traverse City, Cadillac, Manistee, Petoskey, and the surrounding areas. Our office is open 24/7 and 365 days a year so that you can contact us the very moment a disaster occurs. Our technicians are guaranteed to arrive within 45 minutes of receiving your call. Call us at (231) 220-9892 or visit our website for more information on our services.