Fire and Smoke Damage Recovery Costs – How Much Does It Cost?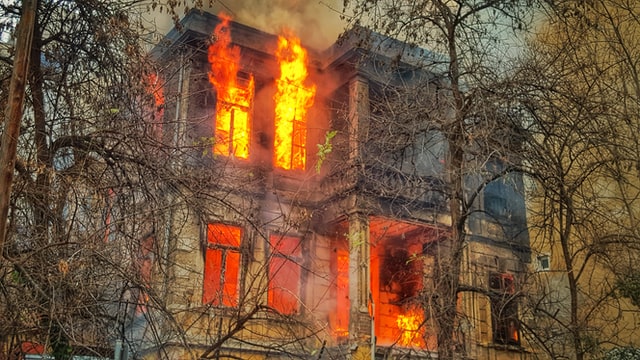 How much do a fire and smoke damage recovery in Southwest Michigan cost? How much will you have to pay out of pocket, and how much will the insurance cover? The answer depends highly on the extent of damage to your property. 
Fire damage recovery costs for small house fires may include many things, such as:
The cost of replacing items

Fire and smoke residue removal

Water damage restoration due to firefighting

Mold testing and removal.
Of course, if you go through a bigger fire, damage restoration service will be more expensive. You must call for help quickly to reduce the damage water and fire can do.
In this article, we will examine the damage that fire and smoke can do and the costs of restoration. We will look at the costs with and without the help of insurance and are using averages to give you a rough idea
Factors Affecting Cost of Fire and Smoke Damage Recovery
The cost of fire and smoke damage recovery cost depends on the class of fire, how hot it burned, and the damage it did. For example, a fire in your kitchen may be costlier compared to garage fires. No matter where the fire was, you must call a fire damage recovery company immediately. 
The professional you hire will also have an impact on the cost of recovery. The quote can range from $6,000 and $20,000 flat for the entire cost. There are also some who charge by the hour. You can expect hourly charges to be around $60 to $95 per hour. 
Most recovery contractors, such as 911 Restoration of Northwest Michigan, offer free visual inspection to property owners. You can call us any time to get an immediate service within 45 minutes. The free quote can help you get a better idea of how much the service will cost you. 
If you wait for more than 48 hours after the fire to call restoration companies, you can expect the cost to go higher. This is because, after a while, the chemicals resulting from fire damage start absorbing into the surface.
Complexity of Project
The more complex a project is, the higher the recovery costs will be. "Complex" fires are often a result of rare fuels burning in the fire. Pure fuels, such as dry grass, wood, or petrol, are easier to clean. Complex fuels, oil fires, wet wood, and more that give out more soot lead to higher costs.
This is because cleaning soot isn't just a matter of scrubbing it off. It needs to be dried and removed carefully. Otherwise, it would end up damaging the surface. Insurance does NOT cover the cost of items damaged during recovery.
The Extent of Damage
As mentioned above, bigger fires mean more damage and, in turn, higher recovery costs. A prime example of this is how fire and smoke damage recovery may involve several other services.
Water damage restoration due to fire fighting.

Biohazard cleanup.

Board up services.

Furniture and document recovery

Other disaster removal services.
This is why fire and smoke damage recovery focuses on full-service disaster restoration. The more services required, the higher recovery costs will be. Insurance may not cover costs of damage that occurred due to negligence, either.
Average Fire and Smoke Damage Recovery Costs
Homeowners pay roughly $3,500 and $5,500 to recover from small fires without insurance. If the roof, stairs, windows, or cabinets are involved, the cost can go over $50,000. The national average cost for fire and smoke damage recovery without insurance includes:
National average: $2,500

Southwest Michigan Average: $3,122

Average Range: $3,000-$47,550

Minimum cost: $2,750

Maximum costs: 54,685
Cost Per Square Foot
The materials used on your property will also determine the cost of fire and smoke damage recovery per square foot. The average cost per square foot for kitchens is usually higher compared to other parts. The Southwest Michigan average is $4.58 to $7.02 per sq. ft. 
Cost Per Property Type
The type of building also determines the cost of fire and smoke damage recovery. Commercial fires cost more than residential fires, while industrial fires cost even more. This is because of the value per square foot store in the different property types. 
However, housefires are more common than commercial or industrial fires, even in Southwest Michigan. This is why the total cost of home restoration is expected to be higher than commercial restoration costs in 2022. 
Cost of Smoke & Soot Removal
Soot removal is a major part of fire and smoke damage removal. This is why they also make up for a huge part of the fire damage recovery cost as well. Usually, soot removal makes up for at least 50% to 75% of the fire and smoke damage removal process. That is unless no other services are required as well. 
Odor removal, sanitization and cleanup services, and board-up services also determine the price of fire and smoke damage removal and may add to the final costs. 
911 Restoration of Southwest Michigan is known for our relationship with insurance companies across the nation. If you would like to learn more about how we can help you get a favorable settlement against fire and smoke damage restoration service, give us a call. We are ready to help you out, 24/7/365!